Skidding systems provided by Eisele
Our Skidding Systems are suitable for moving industrial objects and installations with exceptional dimensions and masses to sites where a crane cannot be used. They are easy to adapt to each load size and project. Skidding systems offer a method for moving extreme heavy loads, such as offshore platforms or complete buildings, is by skidding. For that purpose, a so-called skidding track is required. This system is simple and strong. The skid tracks can only be fitted in a straight line which limits maneuverability. The weight of the load is directly transmitted to the skid-shoe and the track beneath, so the entire track requires load spreading and/or foundation. We offer a number of skidding systems. From a lightweight system for small-scale payloads to heavy-duty systems for large oversized cargo.
Eisele – heavy load & engineering
Machinery installation
Factory relocations
Crane and lift hire
Industrial relocation
Lifting services
Machine relocations
Machine rigging
Get in touch with us for skidding systems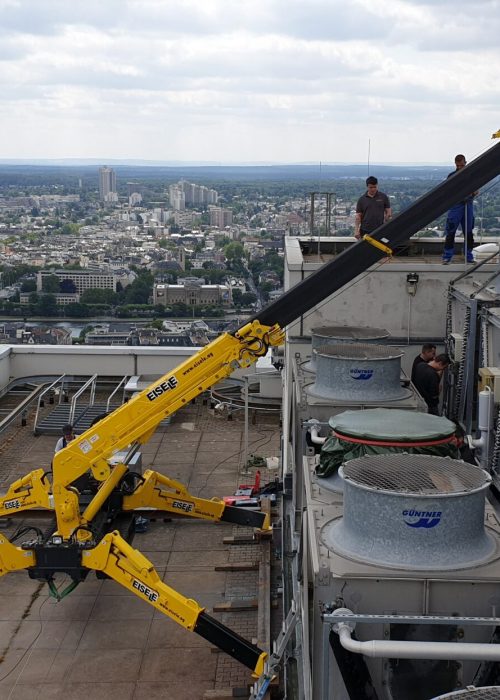 Why should you choose Eisele for skidding systems?
At Eisele our skilled team can effortlessly complete lifting and transporting projects of a variety of sizes and complications. Our personnel's way of thinking and skidding systems make it possible for us to supply every customer with a suitable solution for every task. On top of that, we offer hauling services for cargo of any size.
We own an extensive fleet of vehicles and hauling gear. The machinery in our fleet is able to lift and haul loads up to 1.000 Tons. Additionally, we are able to create a fitting solution to any project that's out of the ordinary. This even includes building special gear for unconventional hauling projects that require specialized solutions.
Eisele's variety of products
We make sure to deliver the right equipment to every customer and have the suitable piece of machinery to complete any hauling task. We supply customers with a range of skidding systems and a variety of lifts. Each of the lifts are specifically built for certain environmental conditions as well as a range of payloads and heights. Furthermore, we even have the All-Terrain lift in our array of lifts. It can reach a height of over 100 meters and is installed on an remarkably stable crane chassis. This particular lift was built to suit even the harshest terrain while remaining in place. Eisele has numerous hauling vehicles for different payloads. Our equipment is comprised of rail systems, Self-Propelled Modular Transporters and gantry cranes for hauling loads weighing more than 1.000 tons. We also specialize in the transportation as well as the installation of glass objects. Our state of the art installation gear allows us to maneuver and install glass with the highest precision. Our team creates ground-breaking solutions for unconventional projects. We pride ourselves in developing unique approaches for extraordinary hauling projects and occasionally even building custom hauling gear when necessary.
Eisele – all about  relocation and installation services
Eisele heavy duty services – crane rental – transports – rental appliances
Eisele is part of the Hüffermann Group
The Hüffermann Group is a net of capable crane rental and hauling companies. Thanks to our cooperation with this group, we are able to provide our customers with an even greater range of services. The companies Autodienst West Ganske, Hüffermann Krandienst and Thömen deliver a variety of cranes and professional glass installation gear. velsycon builds custom vehicles and interchangeable silo transportation systems.