Heavy lift done by an expert
The main goal in transporting cargo is to reach the destination safely, quickly and efficiently. At Eisele we provide customers with complete solutions for their heavy lift. After transporting and discharging the payload, Eisele's skilled crew places and installs the shipment with state of the art technology. Our heavy lift services are successfully executed by the hand our team of professionals and advanced equipment such as cranes, gantries, self-propelled-modular and conventional trailers. Aside from that our team always develops a custom plan for every project to ensure an extraordinarily smooth approach to every heavy lift. Our standards comply with the highest international safety and quality standards to guarantee an even safer execution of our customer's projects. Of course, we continuously strive to improve our safety and quality management.
Eisele – heavy load & engineering
Machinery installation
Factory relocations
Crane and lift hire
Industrial relocation
Lifting services
Machine relocations
Machine rigging
Get in touch with us for heavy lift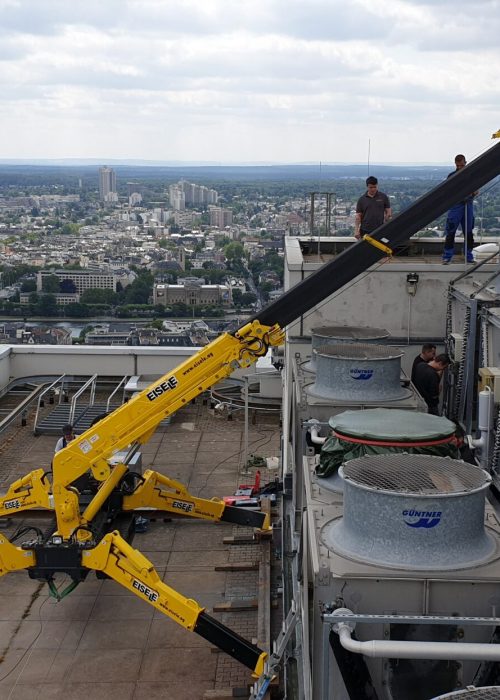 Why should you choose Eisele?
We have a long history in shipping heavy lift under necessary security measures. We always manage every heavy lift with the utmost care by planning ahead and utilizing cutting edge equipment. Whenever we are confronted with a challenging undertaking, we come up with innovative solutions for every projects.
We enjoy creating ground breaking solutions to solve any tricky venture. With the help of advanced technology and our qualified staff we are able to provide every customer with transcendent service. In the case a heavy lift is ever too unconventional for our transporting gear, our engineers construct suitable transporting gear to comply with the requirements of the special cargo.
Our range of services
The vehicles and machines in our product range makes it possible for us to attend to every client's heavy lift needs. We use our variety of lifts, cranes, forklifts and transport vehicles to haul every cargo proficiently. The All-Terrain lift is also included in our assortment of machines and equipment. This lift is installed on a five axis crane chassis, making it extremely stable on the most unstable terrain. Our extensive transportation equipment contains rail systems, Self-Propelled Modular Transporters and gantry cranes for hauling loads weighing more than 1.000 tons. This allows us to haul an enormous diversity of heavy lift. Moreover, we offer gear for lifting, positioning and installing glass. Unique glass installation gear allows us to maneuver and install glass precisely and safely – no matter at what height.
Eisele – all about  relocation and installation services
Eisele heavy duty services – crane rental – transports – rental appliances
Eisele as part of a network
Eisele is part of an established network of companies. This network consists of companies in the fields of crane rental and hauling services. The name of this network is Hüffermann Group. Autodienst West Ganske, Hüffermann Krandienst and Thömen deliver a variety of cranes and specialized glass installation gear. velsycon builds custom vehicles and interchangeable silo transportation systems. These companies make it possible for us to offer our customers an even wider array of products and services.