Eisele – specialist for relocations and installations of machines
When a machine, industrial plant or even an entire factory needs to be relocated, professional equipment is needed to safely lift, lower and transport the payload safely. Additionally, a certain amount of skill and expertise is required to perform a relocation successfully. Maneuvering and securing heavy duty payloads demand a steady and trained hand of an expert. Our staff at Eisele has completed a variety of relocations in the past. We move anything from single production machines to entire factories. But we do more than mere relocation – we also take care of the installation. The installation of industrial machinery needs to be carefully managed to avoid damages and potentially accidents. After the machines are transported to the designated location, it must be unloaded, reassembled and connected to an energy source. The machines will then undergo a testing process. This final step of the installation is crucial to ensure a smooth production process in the future.
Eisele – heavy load & engineering
Machinery installation
Factory relocations
Crane and lift hire
Industrial relocation
Lifting services
Machine relocations
Machine rigging
Get in touch with us for installations & relocations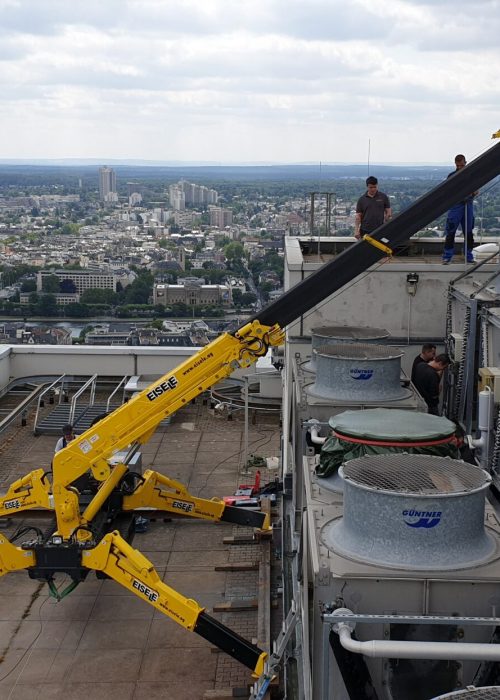 Why choose Eisele for relocation Projects?
Eisele's engineering team is known for its ingenuity and efficiency. This is why we can handle even the most unconventional relocation and installation projects with ease. When choosing Eisele for relocating and installing your cargo, you can rely on extremely professional conduct throughout the entire project. We only use the most cutting edge equipment when lifting, loading, transporting and unloading machines and any other payload. Our product range is comprised of state-of-the-art cranes, lifts, forklifts and heavy duty vehicles that are designed to handle payloads of any size and weight.
Furthermore, our staff is highly qualified to manage projects of the utmost complexity and find the perfect solution. Therefore, the safety of your cargo is guaranteed at all time.
Eisele's range of engineering services
We provide our customers with a variety of products and services for various types of tasks. Our fleet of heavy-duty transportation equipment includes rail systems, Self-Propelled Modular Transporters and gantry cranes for hauling loads weighing more than 1.000 tons. On top of that, all of our equipment is available for rent. Our range of products also includes the one of a kind All-Terrain lift. This man lift holds the record of allowing the largest operating height in the world at 103 meters. Furthermore, it is mounted on a five axis crane chassis, making it extremely stable in the harshest environment. Another part of our fields of service is glass installation. We lift, maneuver, position and install glass objects of any kind with the care. Our specialized technical gear makes it possible for us to move any glass object with extreme precision, while being very well secured. At Eisele, we pride ourselves in being able to develop a solution for every problem. If the machinery we have in stock doesn't suffice, we will simply construct special components for hauling our customers cargo. Our engineers utilize their experience and creativity to build special hauling gear for every project that requires it.
Eisele – all about  relocation and installation services
Eisele heavy duty services – crane rental – transports – rental appliances
Eisele is part of the Hüffermann Group
The Hüffermann Group is a network of companies that specialize in renting cranes and hauling heavy duty cargo. By being part of this group, Eisele is able to offer its customers an ever broader range of products and services. The companies Autodienst West, Hüffermann Krandienst and Thömen deliver a variety of cranes and specialized glass installation gear. velsycon builds custom vehicles and interchangeable silo transportation systems. With the help of our partners there truly isn't any project we aren't equipped for.