Plant and machinery installation by skilled experts
Plant and machinery installation through Eisele's certified service technicians will always provide the best performance of your project. An industrial type installation service involves offloading, inspecting and assembling machines and industrial plants. Planning is key when installing a heavy object of any size. Before the machine or plant can be installed, it must be transported carefully. And later unpacked, assembled or re-assembled. Occasionally innovative installation methods are needed to make sure the object is mounted securely. Eisele comes up with ground-breaking transportation and lifting solutions for unconventional machinery and/or industrial plants. We use state of the art engineering equipment to guarantee supreme security while installing your machines. We even build specialized engineering equipment, if the installation gear we have in stock isn't suitable for the job.
Eisele – heavy load & engineering
Machinery installation
Factory relocations
Crane and lift hire
Industrial relocation
Lifting services
Machine relocations
Machine rigging
Get in touch with us for plant and machinery installation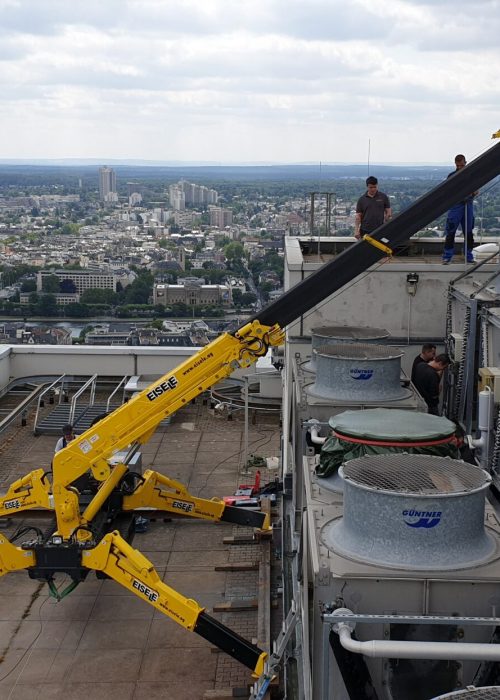 Advanced equipment for installation of plants and machinery
We use cutting edge lifting and mounting equipment to ensure the safest possible approach for installing our customer's machinery or plants. Among our vast range of cranes, we have electric indoor cranes with a lifting capacity of over 40 tons. In addition, our assortment includes electric forklifts, air-slide cushion systems, shifting tracks and even glass installation equipment.
Our gear for installing glass includes glass suction cups, glass robots and 3D glass manipulators and matching glass installation cranes. Our industrial-class mounting equipment is comprised of transportation and heavy-duty haulage gear. Hence, we can easily manage heavy-duty installations of any kind. Even when it concerns the most unconventional heavy payload.
Our range of services
We make certain to continually enlarge our selection of gear to suit the demands of every installation project. At Eisele, we use advanced lifting equipment such as cranes and a broad range of lifts for industrial plant and machine installations. All of our equipment is also available for rent. This includes our one of a kind All-Terrain lift which holds the record of having the largest operating height at 103 meters. The lift itself is mounted on a five axis crane chassis, making it extremely stable on the most unstable terrain. Hauling heavy payloads has been an integral part of our services. Our transportation equipment is comprised rail systems, Self-Propelled Modular Transporters and gantry cranes for extremely heavy loads. Positioning and installing glass is also part of our array of services. Specialized gear allows us to maneuver and install glass precisely and safely. We develop a fitting solution for every project. If our equipment doesn't suffice to complete a job, we will simply construct special components for hauling our customers cargo.
Eisele – all about  relocation and installation services
Eisele heavy duty services – crane rental – transports – rental appliances
Eisele is part of the Hüffermann group
Eisele is one of the many partners of the Hüffermann Group. This network of companies in crane rental and hauling services further expands our range of services. Autowest Ganske, Hüffermann Krandienst and Thömen deliver a variety of cranes and specialized glass installation gear. velsycon builds custom vehicles and interchangeable silo transportation systems. By being part of this network, we are able to offer customers the best solution for every project.