Heavy duty engineering by Eisele – heavy loads
Heavy duty engineering means creating innovative and unique solutions to hauling projects. Some projects require custom gear to safely execute the haul of machinery or industrial plants. This is often the case, when an unconventional payload needs to be transported from one location to another. An engineering specialist is needed to take on such a project, as the quality of the equipment will determine the success or failure of the haul. Another reason to use the services and knowledge of a specialist when there's a need for unique heavy duty hauling gear, is the safety of all those involved and of payload itself. Eisele is a known engineering expert for hauling gear for payloads of various sizes and weight categories. Our creative staff is known for thinking outside of the box and building the proper equipment for every project – despite of how demanding that task may be. Hence, you can trust Eisele with your engineering project for heavy duty hauling gear.
Eisele – heavy load & engineering
Machinery installation
Factory relocations
Crane and lift hire
Industrial relocation
Lifting services
Machine relocations
Machine rigging
Get in touch with us for heavy duty engineering services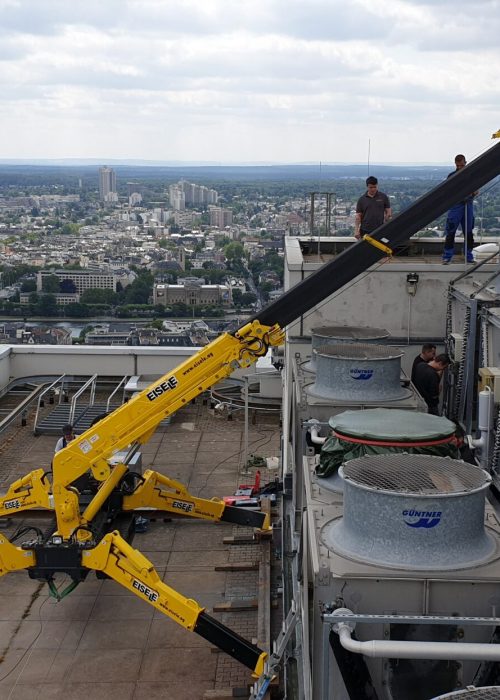 Why choose Eisele for heavy duty engineering?
As mentioned above, we pride ourselves in our years of experience in creating unique solutions for unique projects. Not only do we plan each of our projects with the utmost care and consideration for detail, we use our ingenuity to build innovative engineering equipment for the transport of heavy payloads. We enjoy taking on challenges and coming up with ground breaking solutions to solve them.
With the help of advanced technology and the right engineering machines, we are able to provide every customer with a custom piece of equipment for their heavy duty haul. Benefit from our expertise, creativity and state of the art technology and let us construct your hauling gear.
Our range of services
Our variety of services and products allows us to provide every customer with the exact solution to their project. We utilize cutting edge range of lifts, cranes, forklifts and transportation vehicles to achieve the best possible outcome for every project. Our transportation equipment includes rail systems, Self-Propelled Modular Transporters and gantry cranes for hauling loads weighing more than 1.000 tons. All of our equipment is also available for rent, which includes our All-Terrain lift. It's mounted on a five axis crane chassis, making it extremely stable on the most unstable terrain. We also offer special gear for lifting, positioning and installing glass. Specialized gear allows us to maneuver and install glass precisely and safely – no matter at what height.
Eisele – all about  relocation and installation services
Eisele heavy duty services – crane rental – transports – rental appliances
Eisele is part of the Hüffermann Group
Eisele is one of the many partners of the Hüffermann Group. This network of leading companies in crane rental and hauling services extends our range of services. Autodienst West Ganske, Hüffermann Krandienst and Thömen deliver a variety of cranes and specialized glass installation gear. velsycon builds custom vehicles and interchangeable silo transportation systems.