What's industrial rigging and why should you leave it always to a professional?
Industrial rigging is a term that applies to a wide range of heavy objects. From machine components to entire production plants. This kind of sophisticated industrial equipment often requires the unique rigging devices and techniques used by a professional. Just like Eisele. We have the required expertise, equipment and ability to meet any challenge. Our innovative way of thinking allows us to execute any project safely and efficiently. Eisele's skilled technicians always utilize their longstanding experience as well as their creative problem solving capabilities to make sure every industrial rigging project is realized on time. We specialize in rigging services for companies from different industries all over Europe. Thanks to our fleet of rigging equipment and our commitment to service, you can trust that you're in good hands with Eisele. If there's a project that our high-performance equipment can't handle, we will simply construct special rigging gear.
Eisele – heavy load & engineering
Machinery installation
Factory relocations
Crane and lift hire
Industrial relocation
Lifting services
Machine relocations
Machine rigging
Get in touch with us for your industrial rigging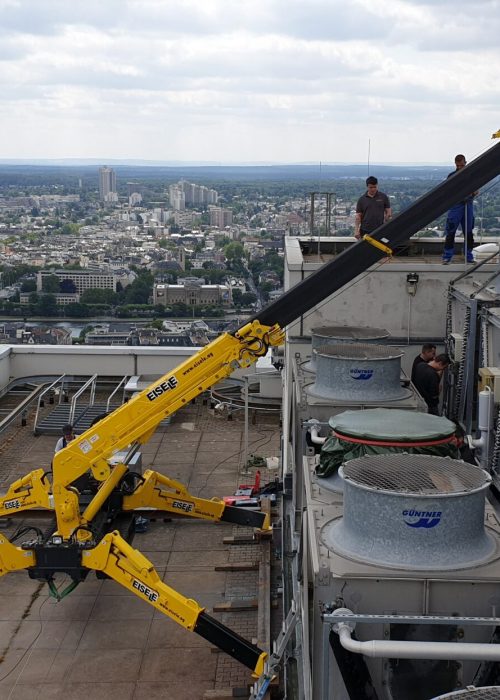 Why choose Eisele for industrial rigging?
At Eisele, we practice the highest standards in safety when performing rigging projects any oversized or heavy loads. As soon as we position our customer's equipment in the right place, the process of preparing to restart production can begin immediately. We possess an immense fleet of machines designed to undertake even the most demanding lifting job.
Our rigging equipment ranges from cranes, lifts, forklifts and a wide variety of trailering systems allows us to move any machine or object. Our machinery is able to lift and haul loads up to 1.000 Tons. You can't go wrong by choosing Eisele.
Our range of services
Our variety of services and products makes it possible to handle almost any challenge. We use our modern lifting equipment such as cranes and a broad range of lifts and transportation vehicles for industrial rigging projects. All of our equipment is also available for rent. This includes our one of a kind All-Terrain lift which holds the record of having the largest operating height at 103 meters. It's mounted on a five axis crane chassis, making it extremely stable on the most unstable terrain. Our transportation equipment includes rail systems, Self-Propelled Modular Transporters and gantry cranes for hauling loads weighing more than 1.000 tons. Positioning and installing glass is also part of our array of services. Specialized gear allows us to maneuver and install glass precisely and safely. We pride ourselves in being able to develop a solution for every problem. If our machinery ever doesn't suffice to complete a job, we will simply construct special components for hauling our customers cargo.
Eisele – all about  relocation and installation services
Eisele heavy duty services – crane rental – transports – rental appliances
Eisele as part of a network
Eisele is one of the many partners of the Hüffermann Group. This network of leading companies in crane rental and hauling services extends our range of services. Autowest Ganske, Hüffermann Krandienst and Thömen deliver a variety of cranes and specialized glass installation gear. velsycon builds custom vehicles and interchangeable silo transportation systems.