Advantages of plant and machinery moves
When moving a plant or industrial machine, there are a several issues that have to be taken into account. Hence, plants and machines require careful handling and attention from skilled experts. Details such as tonnage, dimensions and location have to be considered before successfully moving plants and machines from one place to another. Accordingly, the proper moving gear is vital to securely transport the payload. With high-tech transporting equipment and the right strategy any move can be performed in the most efficient way. Nevertheless, only a professional can perform such a task. Eisele has got decades of practice as well as a team of competent specialists who are able to accomplish even the most challenging plant and machine moves with ease. Trust Eisele with the transportation of your valuable industrial plants and machinery and benefit from our expertise.
Eisele – heavy load & engineering
Machinery installation
Factory relocations
Crane and lift hire
Industrial relocation
Lifting services
Machine relocations
Machine rigging
Get in touch with us for plant and machinery moves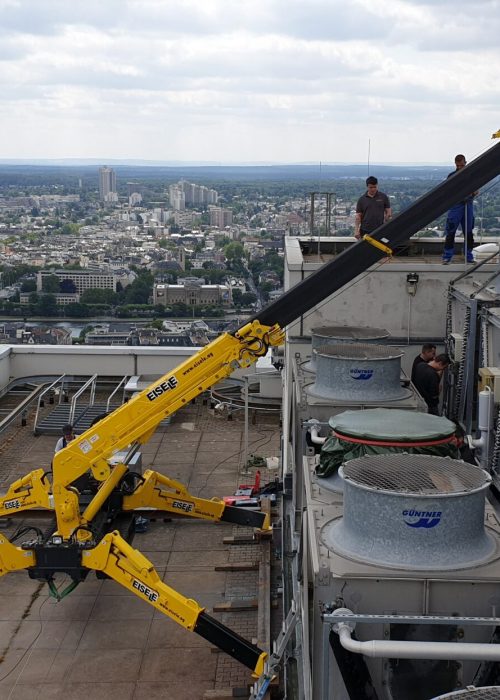 Why choose Eisele
Our engineers can produce solutions for every clients demands. Creativity and cutting edge gear allow for our staff to relocate any production plant and machine. Additionally, our fleet of vehicles and transport equipment permits us to complete any task with ease. The move of our client's plants or machinery only begins after we have formed a comprehensive strategy that reflects on any possible complications we might face.
Eisele's equipment ranges from cranes, lifts, forklifts and a wide variety of trailer systems allows us to move any machine or object. The machinery in our fleet is able to lift and haul loads up to 1.000 tons. Furthermore, we are known for our out-of-the-box thinking. Thus allowing us to create a fitting solution for every problem. This includes building custom hauling gear for unconventional shipping projects.
Eisele's variety of products
Innovative lifting gear like cranes and lifts and transportation vehicles help us move plants and machines of any size and weight. The unique All-Terrain lift, which has the largest operating height worldwide, is also part of our range of equipment. The lift is installed on a five axis crane chassis, making it suitable for difficult terrain. Eisele has numerous vehicles for different payloads. Our equipment is comprised of rail systems, Self-Propelled Modular Transporters and gantry cranes for hauling loads weighing more than 1.000 tons. You can entrust us with your cargo and we will ship it to your predetermined destination. Apart from that, we specialize in transporting and installing glass objects. Our innovative gear allows us to maneuver and install glass precisely. Eisele has uninterruptedly been able to master any challenge. Regardless of how unusual or demanding it may have been. This was only possible with our experienced staff that devises unique plans and even develops special gear for heavy duty lifting and transportation. You can always rely on Eisele and our team of professionals.
Eisele – all about  relocation and installation services
Eisele heavy duty services – crane rental – transports – rental appliances
Eisele is part of the Hüffermann Group
Eisele is working with the Hüffermann Group to provide customers with an even wider range of services. The Hüffermann Group is a network of skilled crane rental and hauling companies. Autodienst West Ganske, Hüffermann Krandienst and Thömen offer a variety of additional cranes of different sizes and professional glass installation gear. velsycon builds custom vehicles and interchangeable silo transportation systems.