Lifting tools provided by Eisele
Heavy lifting can be dangerous. Lifting objects off the ground and safely positioning them in the chosen location requires proper equipment. Cranes, lifts, forklifts are the most common types of lifting equipment. As the case with any kind of professional gear, a trained hand is needed to operate the machine. Only a specialist with the required know-how to prevent damages on the payload and ensure a safe lifting process. Eisele provides a variety of equipment for lifting objects of different sizes and weight as well as a skilled operating crew for projects of any size.
Eisele – heavy load & engineering
Machinery installation
Factory relocations
Crane and lift hire
Industrial relocation
Lifting services
Machine relocations
Machine rigging
Get in touch with us for lifting tools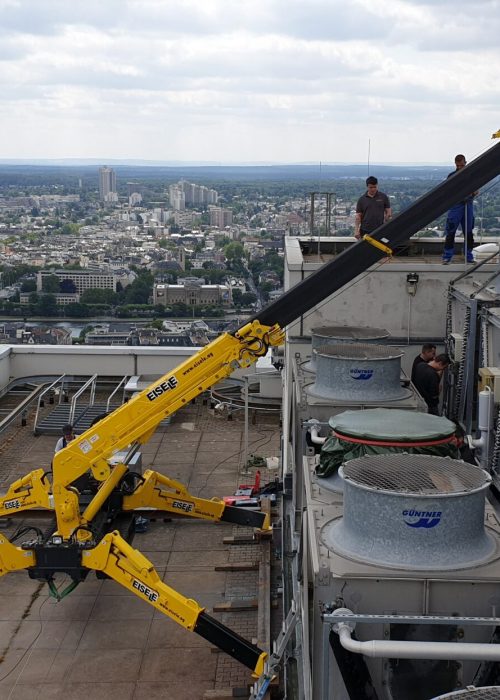 Why choose Eisele for lifting tools?
Handling an extraordinarily heavy or large object requires the utmost care to prevent accidents. That is why it's crucial to use the correct lifting tools when transporting large and heavy loads. Here at Eisele, we supply a comprehensive range of high-quality lifting tools to suit all needs. We enjoy taking on the most unconventional projects and creating individual plans for each of them. The combination of our staff's creativity and our high-tech lifting tools help us provide every customer with the ideal machine.
Our customers benefit from our range of services, which not only include stationary lifting equipment, but also hauling vehicles. This way we can lift, transport and install payloads in just one process. Aside from that, we pride ourselves in being able to create a fitting solution for every problem. Our engineering team develops custom gear for our customers individual hauling projects.
Eisele's variety of products
Eisele owns a fleet of vehicles and lifting equipment that contains the right machine for every job. You can hire our cranes, forklifts, lifts and other special lifting tools such as glass lifting gear. We even included the All-Terrain lift in our range of lifting tools. It can reach a height of over 100 meters and is mounted on an exceptionally stable crane chassis. This makes it ideal for projects on uneven ground conditions. Transporting is a major part of our business. We have vehicles suitable for different payloads. Our hauling equipment is contains rail systems, Self-Propelled Modular Transporters and gantry cranes. We also specialize in the transportation as well as the installation of glass objects. Our state of the art installation gear allows us to maneuver and install glass with the highest precision. Eisele always rises to the occasion. Our fleet of vehicles and equipment isn't the only reason for our success. Our staff comes up with innovative approaches for unconventional projects.
Eisele – all about  relocation and installation services
Eisele heavy duty services – crane rental – transports – rental appliances
Eisele is part of the Hüffermann Group
The Hüffermann Group is a network of skilled crane rental and hauling companies. Eisele is part of that group. This allows us to provide customers with an even wider array of services. The companies Autodienst West Ganske, Hüffermann Krandienst and Thömen deliver a variety of cranes and professional glass installation gear. velsycon builds custom vehicles and interchangeable silo transportation systems.