The potential hazards of machine rigging
Rigging means moving, lifting, landing and potentially assembling large machines. In some cases, the size of the machine doesn't pose the biggest challenge. Often, it can be the location the machine has to be moved to. In an environment that is difficult to access and navigate, extensive planning and special rigging gear is required. Therefore, an experienced rigging company is needed in order to perform the task. Eisele's team of professionals is able to devise a plan for even the most unconventional rigging project. Along with our out-of-the-box way of thinking and our cutting edge equipment, we have executed numerous projects for clients from various sectors.
Eisele – heavy load & engineering
Machinery installation
Factory relocations
Crane and lift hire
Industrial relocation
Lifting services
Machine relocations
Machine rigging
Get in touch with us for your machine rigging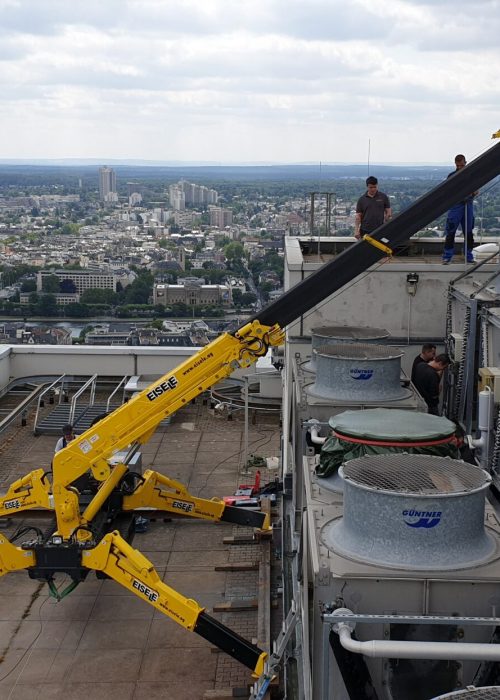 Why choose Eisele for machine rigging?
Because we are able to create a solution to every project. Creative thinking allows us to face any challenge and our state of the art equipment makes it possible to perform rigging project of a variety of machines. Apart from that, we possess a vast fleet of vehicles and transportation equipment to perform any task properly. Before the rigging process of our client's machinery can begin, we organize a comprehensive plan. This way we can avoid any potential challenge we might encounter.
Our rigging equipment ranges from cranes, lifts, forklifts and a wide variety of trailer systems allows us to move any machine or object. The machinery in our fleet is able to lift and haul loads up to 1.000 Tons. Planning unconventional projects doesn't pose a problem to our qualified team of experts. We thrive under pressure and unusual circumstances and devise elaborate plans for each of our clients.
Eisele's variety of products
Our range of services and equipment allows us to face and conquer any hurdle. We utilize high-tech lifting equipment such as cranes and a broad range of lifts and transportation vehicles for machine rigging projects. All our equipment is available for rent. It also includes the unique All-Terrain lift which holds the record of having the largest operating height at 103 meters. It's mounted on a five axis crane chassis. This makes it extraordinarily stable – even on the most challenging terrain. We also own an assortment of numerous vehicles for different payloads. Our transportation equipment includes rail systems, Self-Propelled Modular Transporters and gantry cranes for hauling loads weighing more than 1.000 tons. Another part of our list of services is transporting and installing glass objects. Thanks to our gear allows us to maneuver and install glass precisely and safely. You can always rely on Eisele and our team of professionals. Our company prides itself in creating unique solutions for any and every project. If our machinery ever doesn't suffice to complete a job, we will simply construct special components for hauling our customer's cargo. This process is called heavy duty engineering.
Eisele – all about  relocation and installation services
Eisele heavy duty services – crane rental – transports – rental appliances
Eisele is part of the Hüffermann Group
Eisele is a partner of the Hüffermann Group. This is a network of leading companies in the fields of crane rental and hauling services. Through our involvement with the group, we are able to provide our customers with an even wider array of services. The companies Autowest Ganske, Hüffermann Krandienst and Thömen deliver a variety of cranes and professional glass installation gear. velsycon builds custom vehicles and interchangeable silo transportation systems.