Electric crane – completely emission free
More and more companies plan on switching to eco-friendly machinery. This is especially the case with companies that utilize heavy-duty equipment. For this reason, we offer customers our noiseless electric crane. It is very versatile, but also compact. Making it ideal for tasks in a confined space, e.g. a production hall. The same applies to small spaces outdoors. The adjustable telescopic supports of the crane make it very versatile. Additionally, the e-crane is operated via remote control, allowing the crane operator to have an ideal overview of the project and precisely executing it. Sounds like the right crane for your job? Then get in touch with us now and we will provide you with most efficient electric crane the market has to offer. Eisele is your partner for state of the art lifting and hauling equipment. Whenever we don't have ideal gear for a project, our skilled team of engineers just builds it.
Eisele – heavy load & engineering
Machinery installation
Factory relocations
Crane and lift hire
Industrial relocation
Lifting services
Machine relocations
Machine rigging
Get in touch with us for electric crane for installations and maintenance work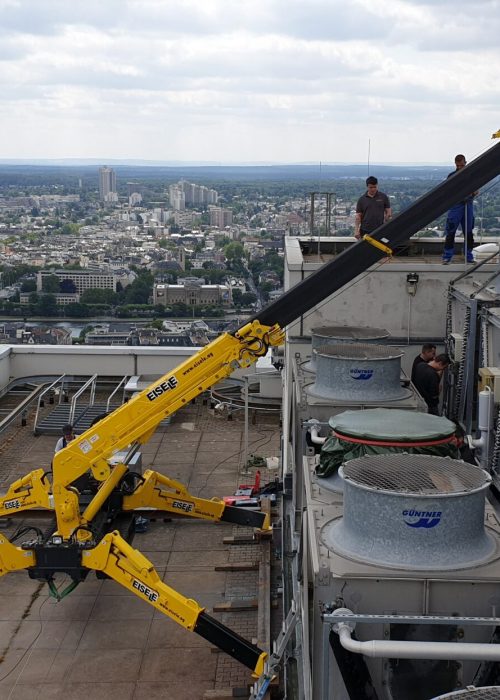 Why should you choose Eisele?
We have extensively trained staff that can coordinate any kind of hauling or lifting project. Our creativity allows us to devise the best possible strategy for every individual case. Along with our with our extraordinary expertise and skill set, we own a sizeable fleet of vehicles and professional industrial gear. Moreover, our fleet of vehicles and hauling equipment provides the necessary support for transporting any payload.
The combination of our crane rental and heavy duty hauling services, allows us to serve all of your transporting and lifting needs. We are able to haul cargo weighing up to 1.000 Tons with the utmost care. As mentioned above, we pride ourselves in being able to create a fitting solution for every problem. Our ingenuity doesn't stop at project coordination, it also includes building special gear for unconventional hauling projects that require specialized solutions.
Eisele's wide array of products
We are an experienced lifting equipment rental service. Our product range includes cranes, man lifts, forklifts and even glass installation gear. We even have the All-Terrain lift in stock. The All-Terrain lift is a unique piece of machinery with an extraordinarily high operation height. It can reach a height of over 100 meters and is mounted on an exceptionally stable crane chassis. Eisele has a number vehicles that are suitable for different payloads. Our hauling equipment is comprised of rail systems, Self-Propelled Modular Transporters and gantry cranes for hauling loads weighing more than 1.000 tons. Additionally, we specialize in the transportation as well as the installation of glass objects. Our state of the art installation gear allows us to maneuver and install glass with the highest precision. Eisele always rises to the occasion. Our fleet of vehicles and equipment isn't the only reason for our success. Our staff comes up with innovative approaches for unconventional projects.
Eisele – all about  relocation and installation services
Eisele heavy duty services – crane rental – transports – rental appliances
Eisele is part of the Hüffermann Group
Eisele partners with the Hüffermann Group. The Hüffermann Group is a network of skilled crane rental and hauling companies. Through our partnership with the group, we can provide our customers with an even wider array of services. The companies Autodienst West Ganske, Hüffermann Krandienst and Thömen deliver a variety of cranes and professional glass installation gear. velsycon builds custom vehicles and interchangeable silo transportation systems.