Low & semi low loaders by Eisele
A low loader is a semi-trailer where the loading floor is located between the gooseneck and the axle bogy. The loading floor is very close to the ground. This makes it possible to transport high payloads. A semi low loader is a trailer with a gooseneck. The loading floor is located above the tires of the hauling vehicle. This allows higher loads to be carried. This type of hauling equipment is an all-rounder and the perfect semi-trailer if you do not yet know exactly what you need to transport. Both of these methods of transportation are available for at Eisele. We use these low loaders and other hauling equipment to successfully execute a variety of shipping projects.
Eisele – heavy load & engineering
Machinery installation
Factory relocations
Crane and lift hire
Industrial relocation
Lifting services
Machine relocations
Machine rigging
Get in touch with us for low & semi low loaders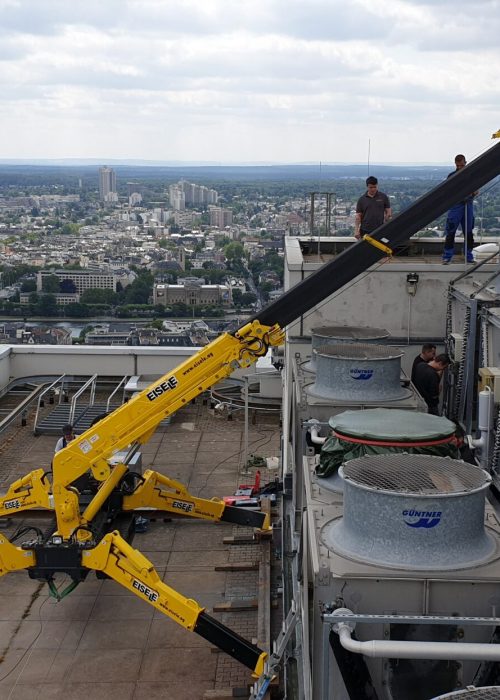 Why choose Eisele?
Low loaders and semi low loaders are both unmotorized utility vehicles that offer a sizeable cargo area. In addition, they provide customers with an exceptionally high payload. Because of that, the loaders can be used for transporting heavy objects of any kind – from construction equipment to industrial machinery. Additionally, Eisele creates unique solutions for one of a kind projects. Not only do we plan each of our projects with the utmost care and consideration for detail, we use our ingenuity to build innovative engineering equipment for transporting heavy payloads.
We enjoy taking on challenges and coming up with ground breaking solutions to solve them. By using our advanced technology and cutting edge engineering machines, we can provide every customer with a custom piece of equipment for their heavy duty haul. Benefit from our expertise, creativity and state of the art technology and let us construct your hauling gear.
Our range of services
Our variety of services and products allows us to provide every customer with the exact solution to their project. We utilize cutting edge range of lifts, cranes, forklifts and transportation vehicles to achieve the best possible outcome for every project. Our transportation equipment includes rail systems, Self-Propelled Modular Transporters and gantry cranes for hauling loads weighing more than 1.000 tons. All of our equipment is also available for rent, which includes our All-Terrain lift. It's mounted on a five axis crane chassis, making it extremely stable on the most unstable terrain. We also offer special gear for lifting, positioning and installing glass. Specialized gear allows us to maneuver and install glass precisely and safely – no matter at what height.
Eisele – all about  relocation and installation services
Eisele heavy duty services – crane rental – transports – rental appliances
Eisele as part of a network
Eisele is part of an extensive network of competitive companies. This network is called Hüffermann Group. This group of leading companies in crane rental and hauling services extends our range of services. Autodienst West Ganske, Hüffermann Krandienst and Thömen deliver a variety of cranes and specialized glass installation gear. velsycon builds custom vehicles and interchangeable silo transportation systems.